I love when a plan comes together like this one.....
The plan was for my husband to buy a COUPLE of Pringles cans that I could use for this project at the grocery store.
Well a couple turned in to 2, then 4, then 18, then 227.
Here's more evidence of the Pringles can obsession
So instead of the original 'couple' that I needed to do this
I was also able to do this
and have enough left over to do this
So I guess the failed plan wasn't so bad after all
since I was able to package all 103 containers of Christmas Cookies, all 54 Chocolate dipped pretzel tips and all 70 presents.
My part was easy. I just applied some tacky spray over the cans that I spray painted in white
( this will help to conceal the original packaging) with a fun festive cotton fabric and finished off the edges with fun embellishments of boa feathers and other pretty trims.
We now have a new rule in the house- NO MORE PRINGLES!
And if you are looking for something a little less crunchy and salty, a few of my favorite friends put together some more creative ways to gift wrap this season.
Linda @ It All Started With Paint
Bonnie and Trish@ Uncommon Designs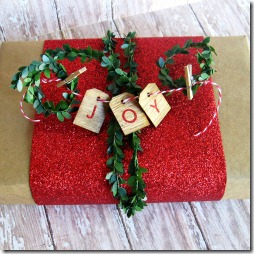 PS-
And i
n case your wondering, I don't even like Pringles!
Grateful for~